Recipe for pour 8 people
Preparation time : 1h
Ingredients
Making the pastry
250g of flour
125g of softened butter
1 egg
1tbsp of Sunny Bio® agave syrup
1 pinch of salt
2 to 3tbsp of cold water.
For the pastry cream
500ml of milk
4 egg yolks
75g of Sunny Bio® agave syrup
1 vanilla pod
60g of fine plain flour
1 pinch of salt
To decorate
About 50 raspberries
A few mint leaves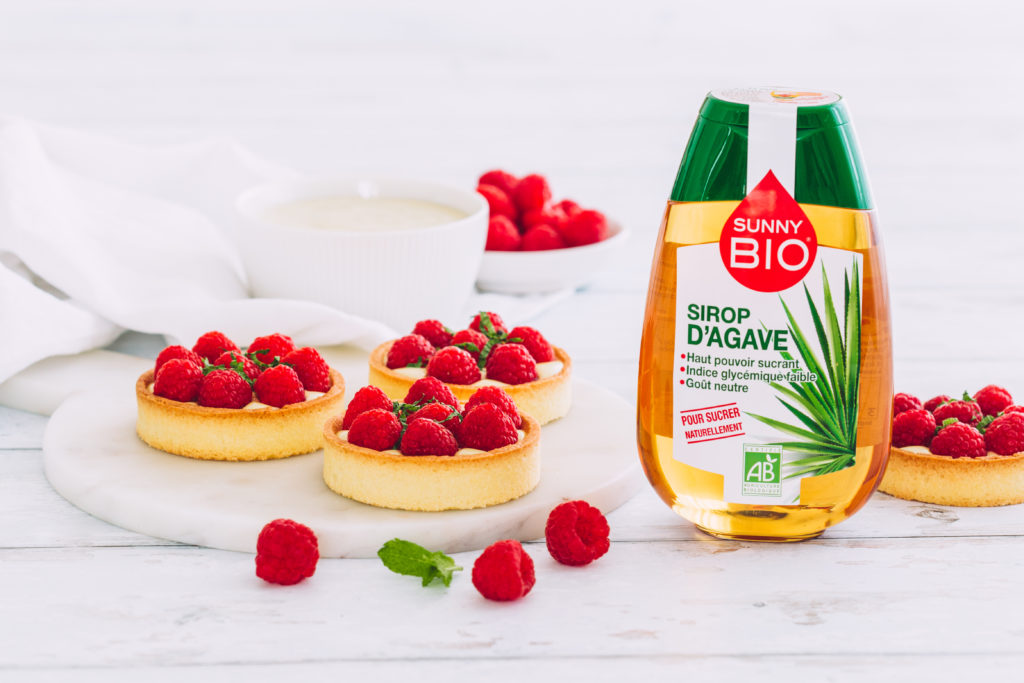 Preparation
Making the pastry
Put the flour, salt, diced softened butter and Sunny Bio® agave syrup into a large bowl.
Rub through your fingertips until the mixture resembles breadcrumbs.
Add the egg and mix to form the dough.
Add a little water if required. Make the dough into a ball as soon as all of the ingredients are mixed in.
Wrap in cling film and transfer to the fridge for at least 2 hours.
Roll the pastry out on a floured surface, then use a pastry cutter to cut out circles approximately 8cm in diameter.
Prick the base with a fork and blind bake in an oven preheated to 200°C for 5 minutes.
Lower the temperature to 180°C and cook for a further 10 minutes. Allow to cool on a cooling rack.
Making the pastry cream
Heat the milk in a saucepan with the seeds from the vanilla pod and a pinch of salt.
At the same time, whisk the egg yokes and the Sunny Bio® agave syrup in a large bowl. Gradually add the flour whilst continuing to whisk.
When the milk is hot, pour it gradually over the egg-agave syrup and flour mixture.
Mix well then pour immediately into the saucepan.
Gently heat whilst continuing to stir. When the filling thickens, continue to heat for a few more minutes to obtain a rich consistency.
Pour the filling into a dish and place a layer of cling film directly onto the mixture.
Allow to cool before transferring to the fridge for at least 2 hours.
Assembling the tartlets
Pour the filling into the tart bases up to the ¾ mark.
Decorate with raspberries and finely chopped mint leaves. A balanced and sophisticated desert for you to savour !